30, January, 2023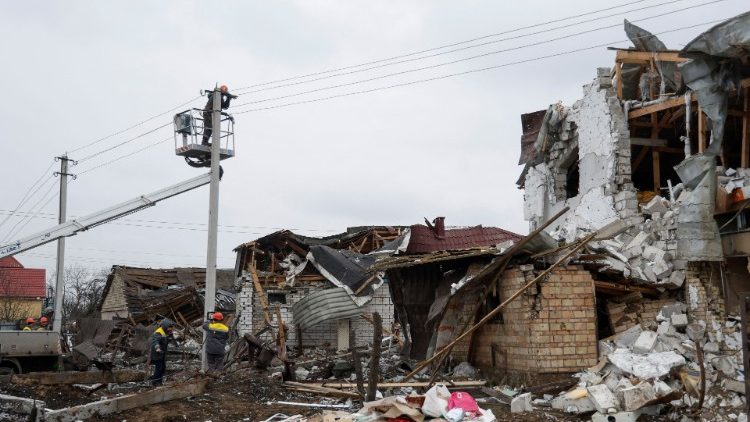 Air raid sirens wailed across Ukraine early Thursday as Russia attacked with scores of missiles and drones. The attacks came hours after the U.S. and Germany pledged to send advanced battle tanks to halt the Russian invasion.
People, some carrying babies, rushed into a Kyiv subway, or Metro station, as they settled in to wait when this massive round of Russian attacks was over.
Russia fired dozens of missiles and drones toward the capital and across Ukraine.
But not all hit their intended targets. Ukrainian troops shouted joyfully as a Ukrainian soldier shot down a Russian drone flying over his trench, footage showed. Authorities claimed dozens more drones and missiles were shot down.
The latest Russian attacks came just hours after several Western nations committed to sending advanced battle tanks to help Ukraine push back the Russian military from its territory.
U.S. President Joe Biden was the latest Western leader to decide to send tanks after initial reluctance within his administration. "The United States has worked in lockstep with our Allies and partners around the world to make sure the Ukrainian people are in the strongest possible position to defend their nation, their families, and against the brutal, the truly brutal aggression of Russia. We haven't seen the likes of this in a long time," President Biden noted.
"And today — today, I'm announcing that the United States will be sending 31 Abram tanks to Ukraine, the equivalent of one Ukrainian battalion," he announced. "The Abrams tanks are the most capable tanks in the world. They're also extremely complex to operate and maintain, so we're also giving Ukraine the parts and equipment necessary to effectively sustain these tanks on the battlefield. And we'll begin to train the Ukrainian troops on these issues of sustainment, logistics, and maintenance as soon as possible," Biden stressed.
ALSO READ: UKRAINE KILLS "MORE THAN 100 RUSSIANS" IN BATTLE AS SOME SURRENDER
Earlier German Chancellor Olaf Scholz confirmed his country would supply more than 100 Leopard 2 tanks to Ukraine by allowing other countries to send theirs too.
Germany itself will send 14 pieces of the German-made Leopard 2 tanks.
But with the green light from Germany, countries such as Poland and the Netherlands also want to deliver these tanks to Ukraine.
Ukrainian President Volodymyr Zelensky said the deliveries are crucial to win the war. "I am very happy. I would like to say thank you to Germany, to Britain, to the United States that they made this decision," he added. However, Zelensky cautioned: "Overall, I am very thankful to the world for their support of Ukraine. But frankly speaking, the number of tanks and the delivery time to Ukraine is critical."
Russia has warned Kyiv and the West that the tank deliveries would be a dangerous escalation of the armed conflict in Ukraine. And a Kremlin spokesperson said, "Those tanks will burn just like any others."
As attacks intensified Thursday, news emerged that a German citizen was detained at Germany's Munich airport on suspicion of "treason" for allegedly spying for Russia.
The prosecutor general's office said Thursday that "Arthur E." was detained Sunday while arriving in Germany from the United States. He is reportedly an associate of a German foreign intelligence service employee who was detained in December for allegedly spying for Moscow as Europe's worst armed conflict in some 80 years continues.
NEWS