16, March, 2023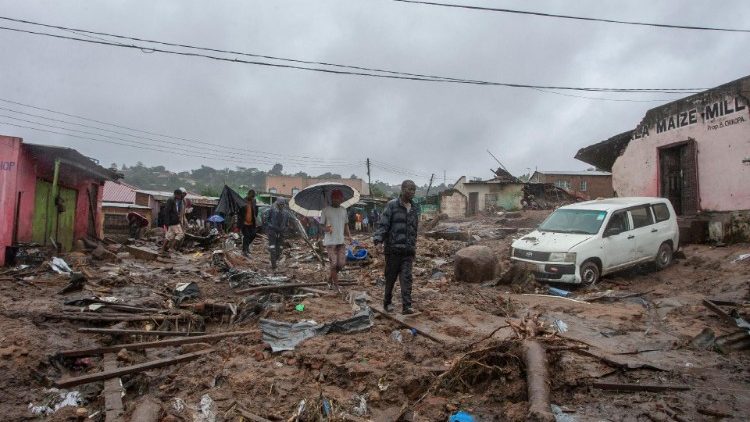 The death toll in Malawi from tropical cyclone Freddy has risen to over 220, thousands of people have been displaced and aid workers are struggling to reach remote areas. Climate campaigners highlight how the poor, the least drivers of climate change, are paying its highest price.
After barreling through Mozambique and Malawi since late last week, Cyclone Freddy is set to move away from land bringing some relief to regions that have been ravaged by torrential rain and powerful winds. 
But the death toll from flood-devastated areas continues to rise, it is estimated that at least 20,000 people have been displaced, and millions more urgently need clean water, shelter and food.
Cyclone Freddy – the longest and strongest tropical storm on record in the Southern hemisphere – has damaged thousands of homes, roads, and telecommunication infrastructures.
Its devastating impact further compounds the crisis caused by the deadliest cholera epidemic Malawi and neighbouring Mozambique have ever recorded and that risks spreading further due to the flooding of polluted rivers and water basins.
It also comes in the wake of Cyclone Idai which killed more than 1,500 people and wreaked enormous destruction in Mozambique, Zimbabwe and Malawi in 2019. 
ALSO READ: MALAWI STORM: DEATH TOLL RISES TO 200
Humanitarian agencies are currently assessing the scale of devastation in order to mount a humanitarian response to provide clean water, sanitation and hygiene facilities, as well as emergency cash and food, but collapsing infrastructure, particularly in the remotest areas is slowing relief efforts. 
The climate crisis has made extreme weather, including cyclones, more severe and prolonged and human rights advocates note that those who are the least drivers of climate change – the poor - are paying the steepest price.
And while a comprehensive response is needed to ensure those in. need receive vital aid, climate campaigners have long pointed to the plight of Malawi as an example of a nation whose population has played little role in warming the planet, but is disproportionately reaping the consequences of humanity's surging emissions.
Their call for environmental justice resounds in harmony with Pope Francis' prophetic encyclical, Laudato sì, in which he notes "We have to realize that a true ecological approach always becomes a social approach; it must integrate questions of justice in debates on the environment, so as to hear both the cry of the earth and the cry of the poor." (LS 49)

At last year's major U.N. climate summit, hosted in Egypt, some wealthy Western countries pledged tens of millions of dollars in funding to Mozambique to help with loss and damage due to extreme weather events, though activists say these contributions don't go nearly far enough.
At a U.N. Security Council session last month on the security risks posed by rising sea levels, Secretary-General António Guterres warned of "a mass exodus of entire populations on a biblical scale" as floods and coastal erosion uproot whole communities.
NEWS